Certified Scrum Master (CSM) Training
Rekisteröitymiset ovat suljettu
agile42's highly interactive introduction to the principles and practices of Agile and the Scrum framework provides an energetic yet deep introduction to Agile and how it works.

Training days are organized in a Virtual classroom. This course is in English. VAT will be added to all prices.
Introduction
Understanding the principles that form the foundation of Agile is at least as important as understanding the practices common to each agile framework, whether Scrum, Kanban or any other framework. The training blends an overview of key principles from Lean and Agile with an in-depth discussion of the four key practices necessary for Agile to work. After an introduction to Scrum, the most commonly applied agile framework with over 70% of agile projects reporting using Scrum in one form or another, we use a simulation - the Lego Scrum City simulation - to help participants immediately put theory into practice.
The simulation provides vivid and memorable experiences that tightly mirror those that new teams experience when adopting Scrum in real life. Emerging the needs of an agile approach through actual experience is much more powerful than simply describing the process in detail. The simulation locks in the learning and drives a much deeper understanding of why critical agile practices exist. Teams that have experienced this simulation exercise repeatedly draw from their experiences here in the weeks and months that follow.
Included:
Two year membership to the Scrum Alliance

Community channel to continue collaborating and access to the trainers

agile42 Community/Alumni access 2 month for free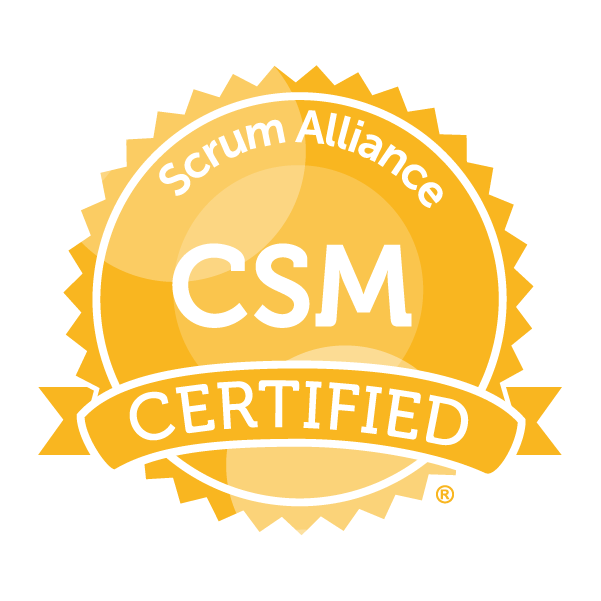 Upon completion of the training, students will be eligible to take the Scrum Alliance Certified Scrum Master exam, and become a Certified Scrum Master (CSM).

Learning Objectives
Understand the principles underlying agile methodologies and how to apply them in a team context
Connect agile principles to the core lean disciplines and understand how to apply lean and agile principles to software/product development
Learn about the trends driving agile adoption and the benefits of an iterative and incremental approach
Gain a common vocabulary and understanding of the Scrum framework
Understand the roles and responsibilities of the Scrum Master, Product Owner and Development Team
Be able to effectively facilitate Scrum meetings: daily scrum (stand-up), sprint/iteration planning, review and retrospectives
Be able to apply the Agile & Scrum principles and practices to build a real product
Work together on an agile team, using the iterative process to rapidly learn and change how the team works
Attending the entire course qualifies you to receive the Certified Scrum Master certification (on successful passage of the Scrum Alliance CSM online exam).
Target audience
The course is designed for entire product/project delivery teams, not only Scrum Masters, as well as anyone likely to work with or on an agile team. It is ideal for teams or organizations new to Agile who need practical and memorable instruction.
There is no prerequisite for attending this class.
Instructor
Lasse Ziegler
Lasse Ziegler is a agile and lean consultant, trainer and coach. He has over 10 years of experience in complex and difficult software development project and software product development.
Certifications: CST, REP, Path to CSP Educator, CSP, CSP-SM, CSP-PO, A-CSM, A-CSPO, CSPO, CSM
Course fee
TIVIA member price is for person members and also for the staff of company members.
TIVIA member price 1 165 € + VAT 24%
Non-member price 1 295 € + VAT 24%
TIVIA member Early Bird price 985,50€ + VAT 24%
Non-Member Early Bird price 1095€ + VAT 24%
If you are not already a member of TIVIA, JOIN NOW (membership fees from 65 €) and pay TIVIA member price for this course!
Cancellation Policy: You may cancel your registration up to 14 days before the training, after that the cancellation fee is 50 % of the participation fee. If the registration has not been cancelled, we will charge the whole course fee. Early bird registration cannot be cancelled. The right to participate can be transferred to another person. You may cancel or modify your registration via e-mail: ilmoittaudu(at)tivia.fi