Certified Scrum Master (CSM) Training (Remote)
agile42's highly interactive introduction to the principles and practices of Agile and the Scrum framework provides an energetic yet deep introduction to Agile and how it works.
A 2-day remote training leading to the Scrum Alliance Certified Scrum Master certification. This course is in Finnish. VAT will be added to all prices.
Overview
agile42's Certified Scrum Master (CSM) training class is a learning experience that provides students a full immersion into what it takes to be a great Scrum Master. You will learn the theory, the values and elements that define the Scrum framework, and how a great Scrum Master uses them skill-fully in the service of the Team, the Product Owner and the whole organization.

The class is presented in a highly interactive and collaborative format with elements of lecture, classroom discussion, exercises, games and simulations, smoothly blended throughout the class. We will approach the class at a sustainable pace and endeavour to take breaks often, to allow our brain to stay focused and our body to recharge when necessary.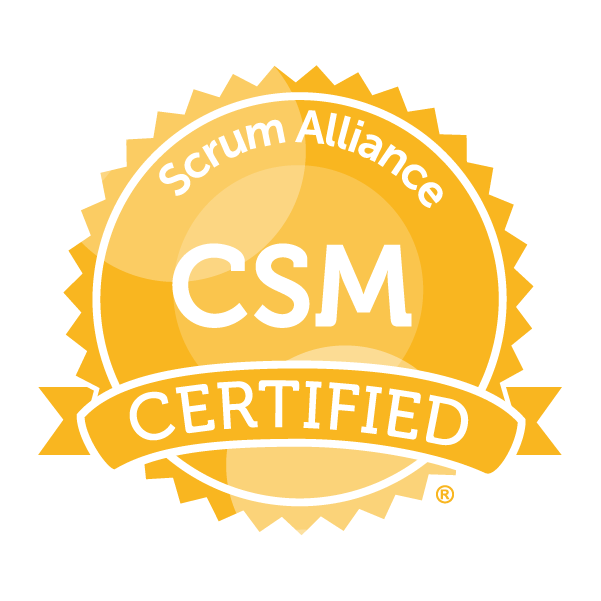 Upon completion of the class, students will be eligible to take the Certified Scrum Master exam and become a Certified Scrum Master (CSM).

Pre-requisites
There is no pre-requisite for attending this class.
Target audience
The Certified Scrum Master course is appropriate for aspiring Scrum Masters, development team members, managers, project managers, and organizational team leaders seeking a deep understanding of the principles and practices of Scrum, and those seeking to be an effective Servant Leader or Scrum Master within an Agile team or organization.
Training topics
Scrum Foundations (partly as preparation for the class)

Scrum in a Nutshell

The Scrum Team

Servant Leadership

Introduction to Agile Coaching

Introduction to Agile Facilitation

Coaching the Product Owner

Coaching the Development Team

Coaching Scrum Organizations

Daily Scrum

Definition of Done

Product Backlog & Refinement

Sprint, Sprint Planning and Sprint Backlog

Sprint Review and Increment

Sprint Retrospective

A full simulation of a Scrum project

Course fee
TIVIA member price is for person members and also for the staff of partner and company members.
TIVIA member price 1165€ + VAT 24%

Non-member price 1295€ + VAT 24%

TIVIA member Early Bird price 985€ + VAT 24%

Non-Member Early Bird price 1095€ + VAT 24%
If you are not already a member of TIVIA, JOIN NOW (membership fees from 65 €) and pay TIVIA member price for this course!
Cancellation Policy: You may cancel your registration up to 14 days before the training, after that the cancellation fee is 50 % of the participation fee. If the registration has not been cancelled, we will charge the whole course fee. Early bird registration cannot be cancelled. The right to participate can be transferred to another person. You may cancel or modify your registration via e-mail: ilmoittaudu(at)tivia.fi